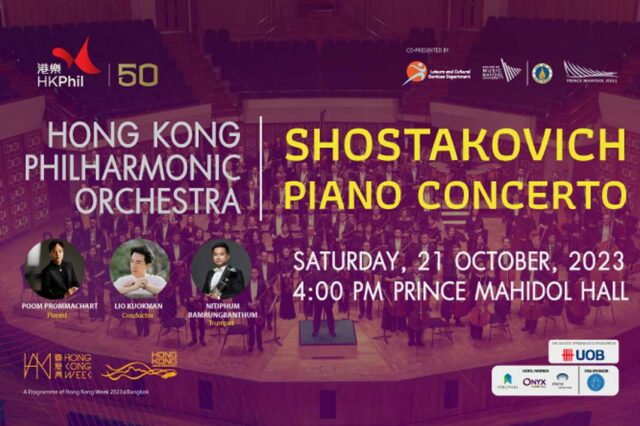 Hong Kong Philharmonic Orchestra วันเสาร์ที่ 21 ตุลาคม 2566 เวลา 16.00 น.  ณ.หอประชุมมหิดลสิทธาคาร มหาวิทยาลัยมหิดล ศาลายา
Lio Kuokman, conductor
Poom Prommachart, piano
Nitiphum Bamrungbanthum, trumpet
Maurice RAVEL: La valse
Dmitri SHOSTAKOVICH: Piano Concerto No. 1 in C minor, op. 35
Nikolai RIMSKY-KORSAKOV: Scheherazade, op. 35
The Hong Kong Philharmonic Orchestra (HK Phil) offers a concert in Prince Mahidol Hall with three stunning works to kick off Hong Kong Week 2023@Bangkok. The HK Phil celebrates its 50th golden anniversary during the 2023/24 season.
In this concert, the HK Phil's Resident Conductor Lio Kuokman opens the concert with Ravel's La valse, a work that evokes the glory days of 19th century Vienna, and he concludes with Rimsky-Korsakov's Scheherazade, which depicts the exotic tales of A Thousand and One Nights. Renowned Thai pianist Poom Prommachart and the HK Phil principal trumpet Nitiphum Bamrungbanthum will be featured in Shostakovich's First Piano Concerto, a work that features solo trumpet almost as much as the piano.

This concert is proudly co-presented by the Leisure and Cultural Services Department of the Government of the Hong Kong Special Administration Region and the Mahidol University College of Music.
Ticket Prices
4,000/ 3,300/ 2,600/ 2,000/ 1,600/ 1,200/ 900 Baht
For Ticket Information
Thai Ticket Major: 02-262-3456 www.thaiticketmajor.com
Prince Mahidol Hall: 02-849-6565, ext. 6604, 6609
Email: [email protected]
สถานที่จัดการแสดง : หอประชุมมหิดลสิทธาคาร มหาวิทยาลัยมหิดล ศาลายา