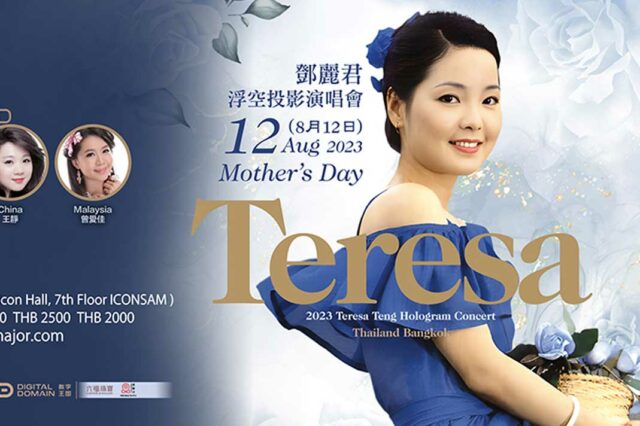 2023 Teresa Teng Hologram Concert Thailand Bangkok วันเสาร์ที่ 12 สิงหาคม 2566 เวลา 19.30 น. ณ.TRUE ICON HALL, 7th FLOOR, ICONSIAM
Teresa Teng Returns: The Beloved Concert for Mothers
Celebrate Mother's Day with the enchanting voice of late Teresa Teng, as she takes you on a heartwarming and nostalgic journey. Utilizing cutting-edge technology, Teresa Teng will once again grace the stage, delivering a repertoire of her timeless classics. Additionally, don't miss the special guest performances by four young artists from China, Malaysia, Japan, and Thailand, whose vocal talents bear a striking resemblance to Teresa Teng. Join us for an unforgettable evening of music and memories.
Eternal Superstar Of The Chinese Pop Music
Teresa Teng's melodious voice has captivated the entire Chinese-speaking world. Her songs not only evoke the emotions of Chinese speaking world but also serve as a shared memory across generations. Even though she passed away in 1995, her influence in Chinese pop music never waned, making her a unique phenomenon in the Chinese entertainment industry.
Teresa Teng is also revered as the "Queen of Asian Singing" in the Japanese entertainment industry. Her performances have graced Taiwan, Thailand, Singapore, Hong Kong, Japan, the United States, Southeast Asia, and many other places. She has sung in various languages, including Mandarin, Malay, Japanese, English, Minnan dialect, Cantonese, Indonesian, and countless others, playing a profound role in the enlightenment and development of Chinese Pop music industry. There is a saying that "Wherever there are Chinese, there is the voice of Teresa Teng." Her voice not only influenced a generation of Chinese people, but last even today. Many young singers continue to cover her classic songs as a tribute. Her numerous works have become irreplaceable classics that will forever endure, and Teresa Teng is hailed as an eternal cultural symbol of Chinese Pop music.
Hollywood Virtual Human Technology Recreates The Legend Of Teresa Teng
Digital Domain, a Hollywood visual effects company, first launched their virtual human technology in a 2008 film "The Curious Case of Benjamin Button". It depicted the transformation of Brad Pitt from old to youth with great delicacy. In 2012, Digital Domain created the virtual image of the late American rapper Tupac Shakur for the "Coachella Valley Music and Arts Festival", which garnered worldwide acclaim and discussion due to its vivid and lifelike performance. In 2013, they brought together Teresa Teng and Jay Chou for a duet that transcended time at Jay Chou's "Opus Jay World Tour". Subsequently, Digital Domain uses its advanced virtual human technology, organized a virtual memorial concert with Teresa Teng Foundation for the 20th memorial of Teresa, featuring a special guest duet with Fei Yuqing. This year, Digital Domain has further matured its virtual character technology, promising to bring even more emotional impact to Teresa's fans.
The Teresa Teng Hologram Concert will immerse the audience with magnificent stage lighting, projections, LED videos, and various special effects and dance performances, providing a rich and vibrant experience. The performers on stage will appear as if they were truly there! When you see these scenes and momentarily doubt your own eyes, you will be deeply immersed in the charm of virtual Teresa's performance.
In order to create a virtual human that is almost indistinguishable from a real person, the production team of Digital Domain has worked tirelessly day and night to perfect every facial feature of Teresa, including her hair, eyes, mouth movements, body language, and temperament. Combining Digital Domain's virtual modeling and real-time motion capture technology with virtual human holographic projection concert production team, together can we present a comprehensive stage effect to the audience. They have successfully reproduction the graceful and enchanting presence of Teresa, bringing back the same emotions to the audience.
The third brother of Teresa, Frank Teng, said "Thanks to the technology of virtual human, we now have the ability to relive our memories of Teresa Teng, and furthermore introduce her songs to younger generation, which is also a sublime tribute to her."
Special Guests
Four guest performers with voices reminiscent of Teresa Teng have been invited to this show. They come from different regions around the world: Vanatsaya Viseskul from Thailand, en-Ray from Japan, Jing Wang from China, and AiJia from Malaysia.
Vanatsaya Viseskul from Thailand:
Also known as Langgalamu, born in Thailand, made a remarkable debut in 2015 "The Voice of China". During the blind auditions, she rendition the "Thousand Words" of Teresa Teng and won her high attention from all the mentors and gained popularity online.
En-Ray from Japan:
En-Ray has possessed extraordinary singing abilities since childhood. After winning with the song "Meteor Shower" in a singing competition, she made her debut in Japan in 2005 with a tribute song to Teresa Teng titled "Eternal Love." In 2007, she excellently played Teresa Teng in the musical "ASIAN BEAT FICTION – When Will You Return?". She shared the stage with renowned Japanese stars such as Toshio Kakei and Meisa Kuroki.
Jing Wang from China:
In 2010, Jing participated in an original musical "Falling in Love with Teresa Teng" and was selected as the lead actress. She stood out among over 5,000 contestants and played the role of Teresa Teng.
AiJia from Malaysia:
AiJia is known for her voice resembling Teresa Teng. She has released her own album titled "Love Jia Ren" and has participated in various Chinese New Year compilation albums and Fujian song compilation albums. She has been invited to perform in Hong Kong, Singapore, Indonesia, Cambodia, and other places.
สถานที่จัดงาน : TRUE ICON HALL, 7th FLOOR, ICONSIAM