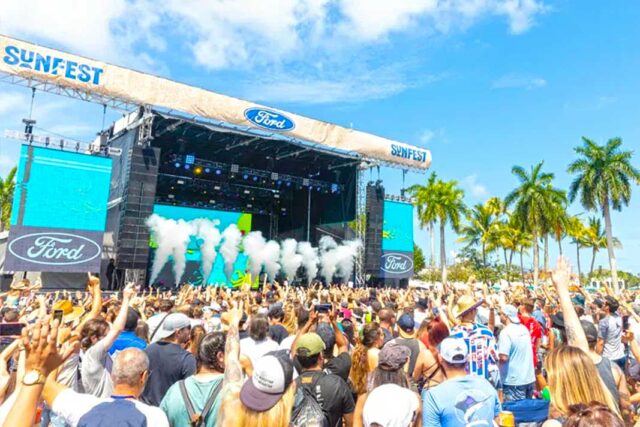 SUNFEST 2023
May 5-7 2023 at West Palm Beach, Florida
More than 175,000 festies hit up up SunFest in Downtown West Palm Beach for five days of music. Florida's largest waterfront music and art festival is typcially held in the first weekend in May and has been held annually since 1982.
SunFest 2023 in West Palm Beach, South Florida Friday, May 5 – Sunday, May 7, 2023. Tickets, 4 Day Passes on sale. SunFest 2023 headliners: The Killers, Jack Johnson, and The Chainsmokers. Lineup includes 311, Flo Rida, Dropkick Murphys, Ziggy Marley, Gatlin, Prato plus MORE! See the lineup below.
The 2023 SunFest Lineup.
SunFest Announces 2023 Musical Lineup And Ticket Deals
Buy tickets early and save more!
SunFest, Florida's favorite waterfront music festival, announces the lineup for one of the Sunshine State's most anticipated events of 2023. For nearly 40 years, this springtime soundtrack set along the historic, palm-lined West Palm Beach waterfront hasn't missed a beat with its variety of performers and more-than-just-music offerings for sunseekers to reunite with friends. The national headliners scheduled to perform on the Ford and Ideal Nutrition stages include:
Friday
The Chainsmokers
Flo Rida
Anabel Englund
LAYA
PLS&TY
Saturday
Jack Johnson
Ziggy Marley
A Boogie wit da Hoodie
ALO
ARDN
Fedd The God
The Hip Abduction
Sunday
The Killers
311
Dropkick Murphys
All Time Low
Charlotte Sands
Gatlin
Surfer Girl
"Make time in your festival plans to check out these groups and support their efforts to create original music right here in our own backyard. SunFest has become a very unique time of year that brings people from all walks of life and all ages together in an unforgettable setting. It's more than a music festival in a tropical paradise – it's a place where old friends can reconnect and resurface cherished memories," said Jamieson.
Festival tickets are currently at the lowest price and are set to increase before the festival. Current pricing starts at $70 for a 1-day pass, and $130 for a 3-day pass. A full artists lineup and schedule can be found online at www.sunfest.com/lineup.
THE Location : Downtown West Palm Beach Florida